The #1 Security Camera Installation In Baltimore | 700+ Residential Installs
We take the hassle out of home & business security camera installation in Baltimore! Contact us now for a free quote! Find out why we're a 5-star rated company!
100% Satisfaction Guaranteed
State Licensed, Bonded & Insured
Full System & Installation Warranty
Over 700 Professional Camera System Installations in Baltimore!
Security Camera Installation In Baltimore, MD
---
Looking for Security Camera Installation in Baltimore, MD? Look no further! With over 5,000 installations on commercial properties and in residential homes, we are the community choice for a 5-Star rated experience!
Stop messing with wiring and audio cables, camera location placement, and other unknown factors! Whether you need an interior or exterior install, our certified technicians help you from start to finish with the #1 priority of keeping your family or assets safe!
Residential Security Camera Installation Near Me
When looking for security camera installation near you there are a lot of options. You need to make sure to choose the most qualified and ready to help. Marvelouz teknology here for you.
Because our technicians perform installs across the state we are always ready at a moment's notice to assist with your installation! Give us a call today to get a free quote or schedule a date to get started.
The Importance Of Security Cameras
Security camera installation in Baltimore is key to providing safety and security for businesses or homes. It's important to have a way to monitor and protect your property. Marvelouz Teknology provides the best service to ensure that your property is monitored and protected. The cameras we install provide sharp, clear images, 24-hour monitoring, and remote access so you can keep an eye on your property from anywhere.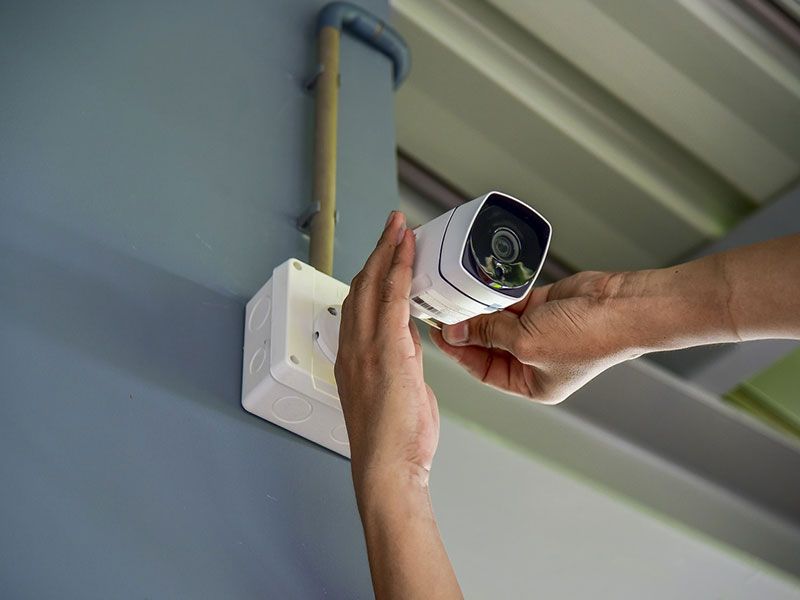 Benefits of security camera installation in Baltimore:
Deterrent:

 

Security cameras can act as a deterrent to crime. Criminals are less likely to target a property that is monitored by security cameras.
Evidence:

 

If a crime does occur, security cameras can provide valuable evidence to law enforcement. This evidence can help to identify and prosecute criminals.
Peace of mind:

 

Security cameras can give you peace of mind knowing that your property is being monitored. This can be especially beneficial for people who live alone or who have young children.
If you are considering installing security cameras, we encourage you to contact Marvelouz Teknology today. We would be happy to help you find the perfect solution for your needs.
5 Star Rated!
Our Security Camera Installation Reviews in Baltimore
Find out why we are a 5-star rated security camera installation company in Baltimore. Our experienced technicians are knowledgeable in the latest technology and can provide a full range of installation services. We take pride in our customer service and we are here to help you protect your home or business. Check out what you're neighbors said about us!
---
Can't speak more highly of Marvin and his company! Both and he and his apprentice were hard-working and thorough. Marvin has been installing Security Cameras for 18 years, is extremely knowledgeable and professional. We have a state-of-the art security system and couldn't be happier.

~ Vincent D'Ambrosio

Marvelouz Teknology are professionals at its finest. If you want great service and an intelligent helping hand guiding you through your installation talk to Marvin. I just had my system installed and I'm 100 percent satisfied with quality of equipment and a nice and neat installation this is the company for the job. All cables are nice and neat in the installation I was well informed about my product. If you have any question from another installer and programmer for a system don't waste your time with anyone else. Thanks Marvelouz Teknology look forward to recommending my friends to you.

~ Kurt Wick

Marvin from Marvelouz Teknology was awesome from my initial contact until the job was completed. He answered every question I had about Security Camera Installation and offered different solutions for what I thought could be issues. Very professional and highly recommended.

~ Joe Riha

This company gave me what I wanted in security cameras with my building. With good suggestions on camera angling, area covering, and the potential blind spots from the cameras. Its one thing to sell a service, its another to talk to the person on there level. To help them meet there comfort of security. And he gave that. Five stars is high and sometimes, not believable…but I didn't have one issue with this company. 😊

~ Omahie Mitchell
Marvelouz Teknology Updates
Licensed, Bonded & Insured
Security Camera Installation Service and More in Baltimore
At Marvelouz Teknology, our top priority is providing reliable security solutions for your business or home in Baltimore. We offer professional security camera installation services that ensure the highest level of protection for your property. Our team of experienced technicians will ensure that your security cameras are properly installed and configured for optimal performance. In addition to that, we also offer a wide range of other services, such as access data wiring installation, VOIP and Network installation service .
---
The Security Camera Installation Process For Baltimore
---
Contact Us For a Free Quote!

We prioritize the safety of your home and security as if it was our own. Contact us today for a free discovery that covers all available solutions for your security needs!

Schedule Your Installation

After we understand how we can help, we will schedule an installation around days and times that work best for you!

Rest Comfortably Knowing You're Secure!

After we have installed your system, we provide comprehensive training on how to use it, monitor it, and how it will continue keeping your interests safe!
Features You Can Get With Our Security Camera Installation Service in Baltimore
During your free consultation let us know what types of features you would like included in your system. We have everything you need to have a state-of-the-art security camera system installed in your home or business! We want to make sure we can meet your needs no matter what type of property you may have. 
No Blind Spots with Full 360 Fisheye Cameras
Cloud Storage Option for Offsite Recording
Alerts Sent to Your
Phone & PC
24/7 Offsite Camera Monitoring
Unattended Baggage Detection
License Plate Recognition Cameras (LPR)
 Also Specializing in CCTV Installation in Baltimore
CCTV systems are our specialty at Marvelouz Teknology. We can help you find the best system to monitor your property and bring you the security you need. We have years of experience and have done over 700 installs.
Our systems provide 24/7 monitoring, so you can always be sure that your property is secure. Our cameras provide high-quality video, so you can clearly see what is happening on your property. Our systems are easy to use, so you can quickly and easily view the footage from your cameras. And our systems are affordable, so you can get the security you need without breaking the bank.
If you are looking for a CCTV system, we encourage you to contact us today. We would be happy to help you find the perfect system for your needs.
---
Frequently Asked Security Camera Installation Questions in Baltimore, MD
---
Connect With Us
Get in Touch Now
---
When it comes to protecting your home, selecting the right security camera equipment and a profes…
Security cameras have become an integral part of modern businesses, providing safety and security…
Home security has become an important part of many people's daily lives and the introductio…